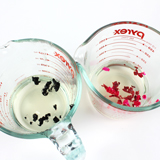 ONE: Cut the Clear Melt and Pour Soap Base into 1 inch cubes and melt in a heat-safe container on 30 second bursts in the microwave, stirring between bursts.
TWO: Add 0.3 oz Champagne Fragrance Oil to the melted soap base and mix well. Split the base in half, each portion weighing 6 ounces.
THREE: Color one portion with the Black Oxide Color Block. I like to shave easily meltable bits off the color block using the clean-up tool. When working with color blocks remember that what you see is what you get! So add as much or as little color as you need to achieve your desired color. Repeat with the other portion, this time using the Shimmer Coral and Electric Bubblegum Color Blocks. For a slightly darker red, add a teensy bit of the Black Oxide Color Block.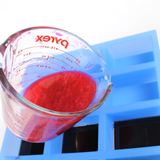 FOUR: Pour the black soap into 6 of the cavities of the 12 bar Rectangle Silicone Mold, filling each cavity about ¼ full. Spritz with Isopropyl (Rubbing) Alcohol to eliminate bubbles. Repeat with the red soap, filling the other 6 cavities about ¼ full and spritzing again with Isopropyl (Rubbing) Alcohol.
FIVE: Allow the soap to fully harden. While waiting for the soap to harden, print and cut out the mustache and lip templates (downloadable here). Unmold the red and black soaps. Place a mustache template on a piece of black soap, and use a craft knife to cut around the template. Use the templates to cut mustaches from the 6 bars of black soap, and lips from the 6 bars of red soap.
SIX: For soap on a stick, use a skewer to pierce the soap. Wrap the soap with plastic wrap or a cute cello bag and ribbon. Enjoy!
Tip for using the template
:
With the template on the soap, use the craft knife to make a line all the way around the template, but not an actual full cut. Remove the template and use the line to make your final cut. I found cutting was easier when I angled the soap with the widest part of the soap perpendicular to me.